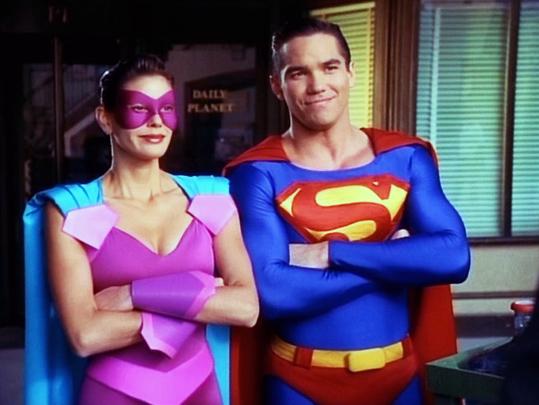 "Real superheroes wear uniforms and badges…"
Hands up if you remember Dean Cain.
If you lived through the '90s, chances are you spent a good few years frothing over this dude as he fought crime in a spandex suit on the television series Lois & Clark: The New Adventures of Superman. 
Need a reminder? We're glad you asked.
Take a second to have a squiz at this:
Lois had some seriously impressive pantsuits, amirite?!
Anyway. 
Twenty-one years after wrapping his gig as The Man of Steel, Cain must've thought, "hey, I miss that crime-fighting stuff"and decided to join the police department in Idaho in real, actual, life.
The Superman actor was sworn in as a reserve officer with the Saint Anthony Police Department on Tuesday, June 19th.
On his new heroic role, Cain told The Daily Caller:
"I have always been a man of action.

"Real heroes don't wear capes. Real superheroes wear uniforms and badges and stethoscopes! Real superheroes are members of our military, law enforcement, and first responders."
According to the Idaho State Journal, Cain will work with his friend and fellow actor and reserve officer Erik Estrada to fight against online predators and bullying as part of the All About Kids initiative.
"Nothing could be more important than being here," he told the newspaper. 

"This is a wonderful opportunity. It's great to be here with the guys and to put on this uniform." 
SEE ALSO: Confirmation: Fran Drescher in talks to bring back the Nanny 
SEE ALSO: One moviegoers warning to anyone about to see the Incredibles 2
Written by Stehpanie Nuzzo
Image: Warner Bros. 
Source: WENN