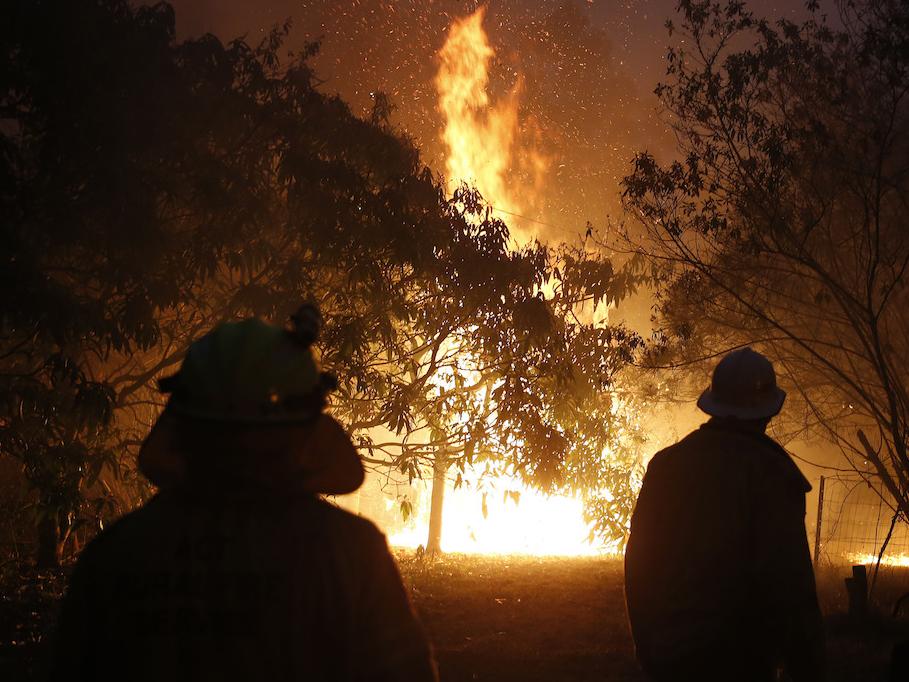 Bushfire info line: 1800 649 73
Bushfires continue to blaze across NSW with conditions now described  as "volatile" in NSW.
A strong southerly front overnight has caused worsening conditions for firefighters battling "volatile" conditions in NSW, with high winds sparking 300 new fire fronts and destroying more properties.
Strong winds have pushed the fire at Hillville, in northern NSW near Taree, in a north-westerly direction, along with blazes in other regions, as fires destroyed hundreds of thousands of hectares of bush.
NSW remains in a state of emergency, with high temperatures, strong winds and very low humidity causing treacherous conditions for some 1500 firefighters battling blazes.
More than a million hectares of land has been consumed by bushfires, and authorities dealt with 300 new blazes on Tuesday alone.
Fortunately heavy smoke on Tuesday morning served as an "insulation blanket" to the strong winds moving across the Northern Tablelands so several fires did not flare up as much as feared, RFS Commissioner Shane Fitzsimmons said.
But he warned the challenge ahead remains "enormous".
"All these fires ... are still subject to the influence of this strong southerly change that's moving across the fireground which will impact and influence fire behaviour, create volatile and potentially dangerous circumstances," Mr Fitzsimmons told reporters in Sydney on Tuesday evening.
"The enormity of the task to bring these fires properly under control, to consolidate them, to get around them and mop them up is enormous."
A number of firefighters were injured, but none are in a critical condition, and there were no people missing as of Tuesday night, he said. Injuries to firefighters throughout the day included fractures, heat exhaustion, fainting and collapse.
While conditions are expected to ease on Wednesday, Mr Fitzsimmons said a forecast for severe weather into the weekend and another burst of hot air next week means "we simply aren't going to get the upper hand on all of these fires".
A week-long state of emergency has been declared in NSW with the armed forces standing by to provide support, including for search and rescue operations. 
Closures and Transport in NSW:
Some 600 schools were closed although most are expected to reopen, apart from about 140 state schools - mainly in the north.
For travellers, all XPT services will be suspended until Wednesday evening, while Sydney to Brisbane services have been cancelled.
Express coaches will continue to operate from Casino to Wauchope, subject to road closures, while other buses will operate from Maitland to Scone, however, no coach service will operate for passengers between Taree and Sydney.
SEE ALSO: Federal government promise increased drought relief for Aussie farmers 
Source: APP 
Image: APP/Darren Pateman 
Written by Ally Parker