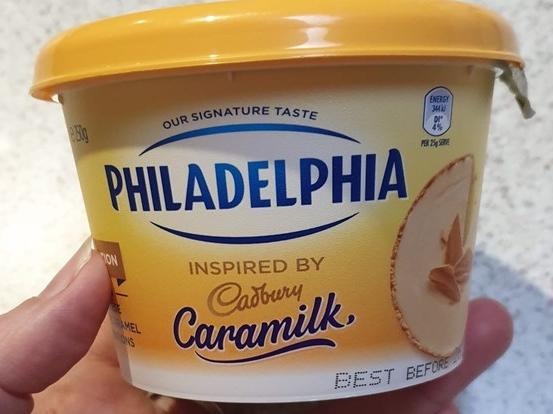 There goes the diet. 
The iconic Cadbury Caramilk - which were in such limited supply last time that blocks were selling for ten times their worth on eBay - is back in stores today. 
And just when you were certain the day couldn't get any better or more sugar-filled, we have more news. 
When you're grabbing as many blocks off the shelf as possible in-store today, remember to dart down the refrigerator aisle. Why? 
To get yourself a tub of the greatest food combination ever invented: 
No, you haven't died and gone to heaven - that's a tub of Cadbury Caramilk Philadelphia Cream Cheese. 
What do you eat it with? Who even cares - just have it by itself. 
Or as a Caramilk cheesecake….
"If I ate a tub of this would it ruin my diet...?" on user commented on a post about the product made by Facebook group I Bought It At. 
"Just bring me a spoon," reasoned another. 
SEE ALSO: New Aussie dollar coins to feature Zooper Doopers and meat pies
Catch up with Rabbit and Julie Goodwin with their podcast! 
Written by Brynn Davis 
Images: Facebook