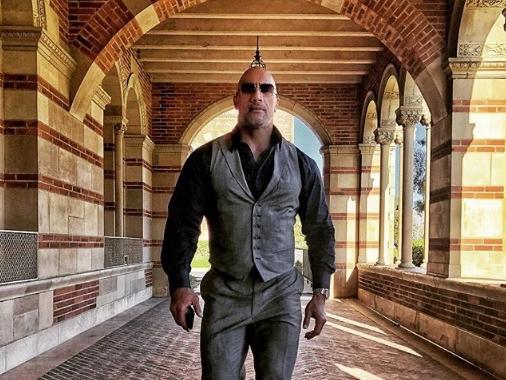 Rock for president. 
Dwayne 'The Rock' Johnson has dropped the biggest hint yet that he's headed for the oval office!
The 45-year-old told Rolling Stone he's been taking "under-the-radar" meetings with political experts after announcing last year that he was pondering a presidential bid.
"Republicans, Democrats, independents, mayors, strategists, you name it. Just soaking in and listening," Johnson, 45, said. "… I feel like the best thing I can do now is — give me years. Let me go to work and learn."

"I mean, look — people are very excited, and it's so flattering that they're excited. I think it's also a function of being very unsatisfied with our current president. But this is a skill set that requires years and years of experience. On a local level, on a state level and then on a national level. I have the utmost respect for our country and that position, and I'm not [delusional] in any way to think, 'Oh, absolutely, if Trump can do it, I can do it, and I'll see you in 20-whatever, get ready.' Not at all."
"I will say this … There's a well-known political figure who said, 'All right, listen. If and when you want to run for president, when you text me this word, I'll come running. Don't text any other word — not 'hi,' not 'how you doing,' not 'what's up.' Just this word,'" he continued.
And without further political chit chat, here is a vid of The Rocks' beautiful daughter to make your day:
#mypresident
Image: Instagram / The Rock
Written by Ally Parker