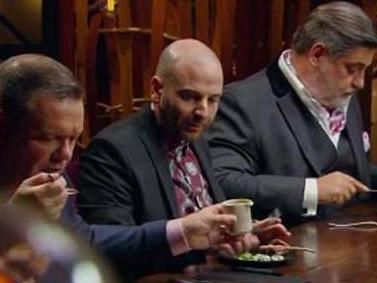 Viewers were literally cheering in their lounge rooms!
Just a side note before we start the story, HOW GOOD IS MASTERCHEF RIGHT NOW?!?
Seriously, after nine seasons you would think this show has done it's dash, but no.
I mean, fans did have a freak out when they saw Matt Preston taste a dish and named it cheating. 
Then there was that time where viewers were outraged because of the lack of table manners. 
But you know, it's all apart of the drama.
Well, in last night's episode Aussie viewers were praising Sashi Cheliah for becoming the first ever contestant to win TWO immunity pins. 
The prison officer/homecook, well I guess this proves this show is no longer about the average home cook, went head-to-head with Any Harmer in the immunity challenge. 
The judges scored Sashi a 27/30 for his lamb dish.