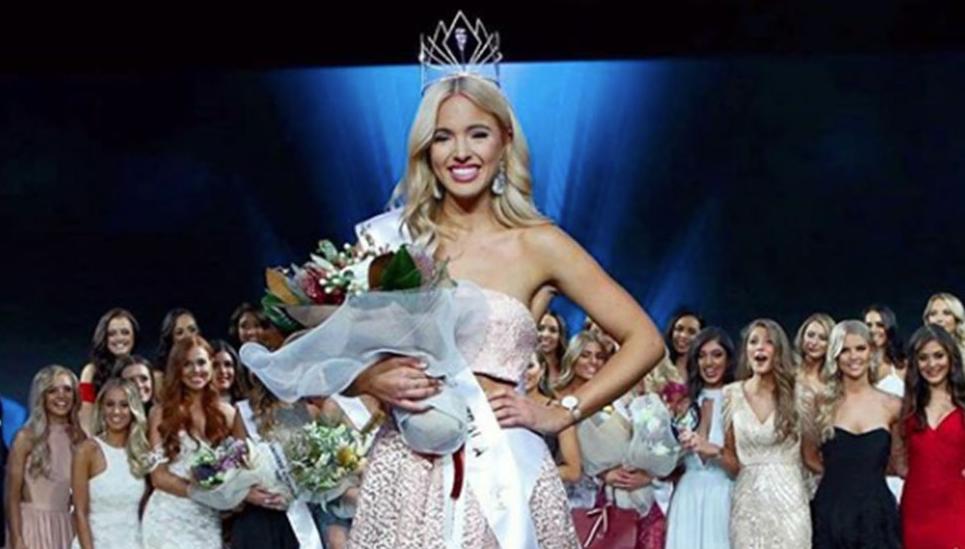 We chat to our 2017 Miss Australia about the pageant stereotypes 
Ok who's like us and grabs a tub of ice-cream (or 3) with your mates to watch the world's most beautiful women walk the runways like Miss Universe or the Victoria's Secret Fashion Show?
There are two types of girls out there who do this, one is the woman who just enjoys watching maybe for the motivation or because we can stare at them and they have no idea.
The other is the woman who ends up feeling shitty about her own body while these 'perfect' women strut their stuff.
What are YOUR thoughts when you see these girls walking down a runway in bikinis?
The Miss Universe pageant has been a tradition since 1952 - but is this pageant even relevant today now that over 60 years has passed? 
Many argue the pageant is merely an opportunity to exploit hot chicks on the runway to rake in coin.
Others advocate, citing it's about beauty, brains AND class.
So what did 2017 Miss Universe Australia, Olivia Rogers have to say about her thoughts on the pageant before the she applied. Turns out she never considered enterting:
"It's not so much that I didn't want to [apply], I just hadn't ever considered it before - so when the opportunity arose, I was very unsure. I didn't ever think pageants would be my thing, but the Miss Universe pageant, particularly here in Australia, has really changed. It's not just about external beauty, it really focuses on confidence, intelligence and how you are as a person."
And what about the bikini section. The Miss Universe pageant reportedly came about almost accidentally when Miss America of 1951, Yolanda Betzbe, refused to do swimwear publicity shoots. Reports say this didn't sit well with the pageants major sponsor Catalina Swimsuits. So, Catalina Swimsuits founded their own pageant. 
We asked Rogers whether she thought the bikini section was necessary in the competition: 
"I do, it's the tradition of the competition and although a lot of people see it as a negative thing, I certainly don't. The pageant has changed so much, it's no longer about having the so called 'perfect body', but rather loving the skin you're in and being confident in yourself."
Before the pageant Rogers felt the bikini section was quite daunting, revealing that she is "not one to parade in my bikinis". However, the bikini part of the competition no longer scares her due to the amount of support she has received:
"… After being in the competition, it no longer scares me. I felt nothing but support going out there, both from my friends (the other competitors) and from my family in the audience. It's actually a lot of fun and really empowering to get out there and show that you are confident in your own skin. I've worked really hard to get to this point within myself, so it was a great way to share that. " 
This is something Rogers has been very vocal about on social media:
We thought we better see what the other side of the coin has to say. Professor Susan J Paxton from the Department of Psychology and Counselling at La Trobe University told us about the implications pageants like Miss Universe have on our minds and body image:
"Although many pageants of this kind argue that they seek out a range of qualities from their contestants, ultimately, they are rewarded for their stereotypic beauty and meeting appearance ideals. As a consequence, they promote the notion that women are only appreciated for their appearance, and in particular for meeting ideal social expectations.  This undermines appreciation of women for their many other qualities."
However, Rogers believes critics who think the pageant is an objectification of women "haven't spoken to anyone in the competition":
"If you speak to any of the girls competing, and understand their reasoning behind entering – it is obvious that there's so much more to it than what you see on the outside." 
Body image is such an important issue in our society today, especially with the rise of social media. The 2016 Mission Australia Report which surveyed 22,000 15-19 year olds found that 41.4 percent of girls and 17 per cent of boys are extremely or very concerned about their body image. Even though there is no research on the correlation between viewing or being in these pageants and body image issues, Paxton believes viewing idealised media images affects our body issues:
"Viewing idealised media images, however, has been demonstrated to increase body dissatisfaction and negative mood, so it is likely that a similar effect would be observed in relation to pageants." 
And as you can imagine, social media does not help:
"There is growing research evidence to show that high levels of engagement with social media, especially photo-related social media, is related to lower body satisfaction but research in this area is still in its early stages."
Rogers has some advice for people who do feel inadequate when looking at these images:
"It is so tough for us to not feel pressure from the media as we are constantly swamped with images. One tip I was given by Jessica Sepel, is to simply unfollow anyone who makes you feel inadequate or down – there is just no point in continuing to see those images daily. I have stopped comparing myself to others, only since really embracing who I am, what my body can do and the things I love about myself. I think you really need to start by loving yourself, being kind to yourself and the rest will follow." 
YAS GIRL!
"I am so excited to use my title to work with charities I have been keen to work with for years, especially Beyond Blue. I plan to be a role model for young people and a spokesperson for positive body image and mental health."
Unfortunately, the beautiful Olivia did not make it to the top 16 of Miss Universe. But we cannot wait to see Olivia achieve more of her dreams - we have no doubt she will!
The Miss Universe crown went to Miss South Africa, Demi-Leigh Nel-Peters. She recently earned her degree in Business Management at North West University and created a campaign for women in South Africa called 'Unbreakable' to teach them how to defend themselves emotionally and physically.