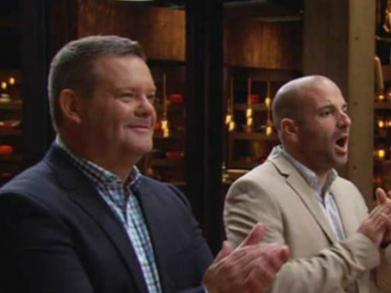 "You don't ask Joe Blow to be a judge on Mastechef!"
The new MasterChef judges are here and they are ready to take on the new decade, with the show confirmed for a 2020 start.
Jock Zonfrillo, Melissa Leong and Andy Allen will take the reigns off of George Calombaris, Gary Mehigan and Matt Preston. 
So who exactly are the three new food gods (no, not Jonathan Cheban) filling the huge chef hats? ?
Jock Zonfrillo is the owner and chef of three-hatted restaurant, Orana, as well as Bistro Blackwood in Adelaide. He was named Australia's Hottest Chef in 2018 and has hosted television shows including Nomad Chef, Restaurant Revolution and Chef Exchange, as well as appearing in the MasterChef Australia kitchen as a guest chef across three seasons.
In a statement to Network 10, Jock said:
"When I think of MasterChef Australia, I think of discovering new talented cooks with fresh ideas and creativity.
"There hasn't been a season yet where I haven't been surprised by just how talented some of the undiscovered cooks are, so much so, that many of them have worked in my kitchen over the years. I can't wait to get in that kitchen."
Melissa Leong has a long list of jobs on her resume; a food and travel writer, food media consultant, radio broadcaster, television presenter, MC and cookbook editor. 
"It goes without saying, that it is an honour to be passed the baton and asked to help bring the next chapter to life on a show like MasterChef Australia.
"It came as a huge surprise for me, and is, without a doubt the opportunity of a lifetime. I am really looking forward to getting stuck in!"
As for Andy Allen, if you're a diehard MasterChef fan you're probably thinking: "He looks very familiar." Well you would be correct; Andy was the Season Four winner of the show and, since taking home the giant silver plate and a stack load of cash, he has been travelling Australia and the world pursuing his culinary curiosity.
"I entered this competition as a contestant in 2012. Somehow I won it and then I went out into the big, bad, wide world of hospitality. To be asked to be a judge – and to come full circle back to MasterChef Australia – is really flattering and really special.
"I'm stoked because it means that I've done the hard work to be here. You don't ask Joe Blow to be a judge on MasterChef Australia."
The new judges come after Network 10 shocked Australia by announcing the OGs were leaving our screens after 11 highly successful seasons. 
The Guardian reported in July that Chief Executive Officer Paul Anderson said the network had not been able to reach a commercial agreement that was satisfactory to the trio.
"We would like to thank Gary, George and Matt for their contribution over the past 11 years.
"We can't wait to introduce another group – and the next generation of exceptional judges – in Season 12 of MasterChef Australia next year."
What are your thoughts, are you feeling hot or cold?
SEE ALSO: Selling Houses Australia set to renovate Central Coast home
Catch up with Rabbit and Julie Goodwin with their podcast! 
Written by Christina Cavaleri
Images: Channel 10/Mastechef