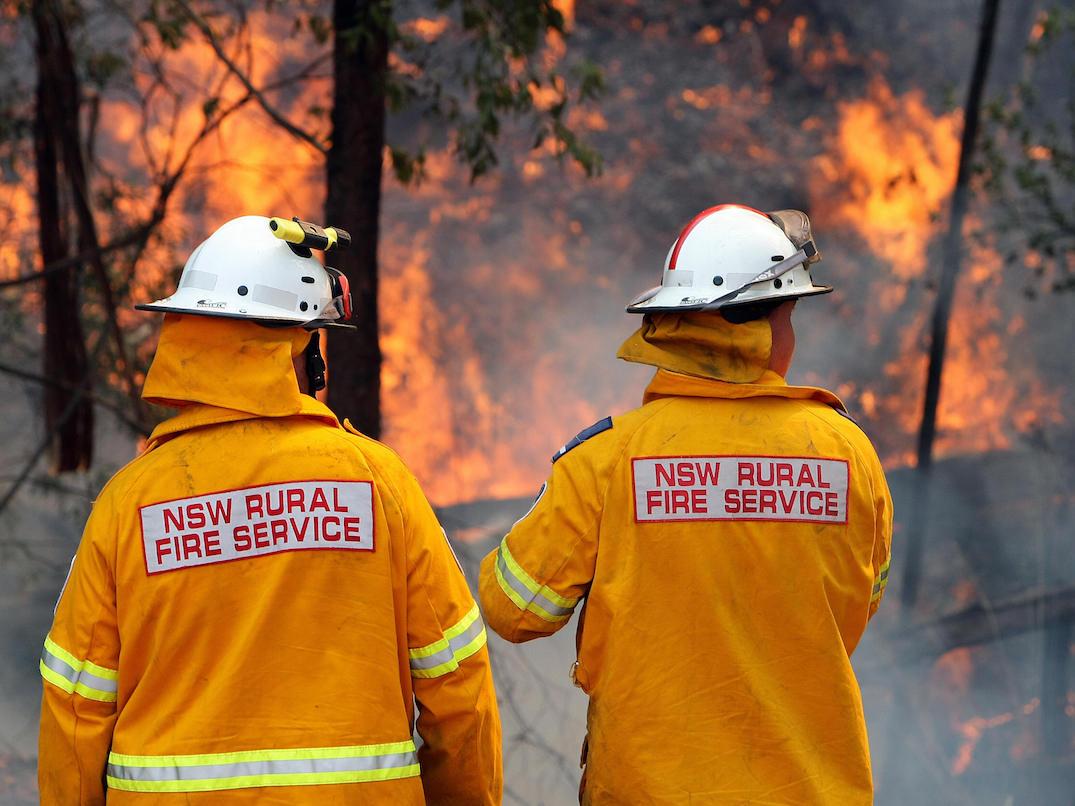 Published: 10/12/2019 at 7.41am
The NSW Rural Fire Service (RFS) is gearing up for 'a very dangerous day' across New South Wales as dangerous weather conditions move across the region.
Temperatures of up to 42 degrees along with hot and gusty winds are being predicted across the state, producing volatile conditions for an already intense bushfire situation.
RFS Commissioner Shane Fitzsimmons stated it would be a "very complex, very difficult" day for firefighters, who are currently battling almost 100 bushfires in New South Wales.
He said hot and dry winds will lower humidity to less than 10% across many regions, resulting in a dangerously dry atmosphere.
"We are going to see hot conditions and dry atmosphere, particularly dry air mass that bring this heat from the centre of Australia," he explained.
He also stated that although thunderstorm activity had been predicted for this afternoon, there would be little rain.
"Not a lot of moisture in it or rainfall, but that means a potential for lots of lightening,"
In NSW today, nine areas will have total fire bans in place, and 2000+ firefighters and volunteers along with over 100 aircrafts would be fighting blazes across the state.
"All fires… are going to be of concern to us, but there are some that are much closer and with greater potential to impact on more densely populated or highly populated areas," the commissioner stated.
One of the most dangerous fires in the state is the 'mega-fire' currently burning in the Central Coast and Hunter areas. The blaze, which was formed by five separate fires merging together, has burnt more than 450,00+ hectares, and continues to threaten much of the western Central Coast region.
The NSW Premier Gladys Berejiklian said in a statement yesterday that today would be a "very dangerous day for NSW" and asked all residents to be vigilant during the bushfire season.
To report a fire emergency
Call Triple Zero (000)
If you are deaf or have a speech or hearing impairment call 106
For information on fires
Check our Fires Near Me page for current incidents
Listen to local media
Check social media such as NSW RFS Facebook and NSW RFS Twitter
Bush Fire Information Line - 1800 679 737
If you are deaf, hard of hearing or have a speech impairment, contact us through the National Relay Service 

TTY users phone 1800 555 677 then ask for 1800 679 737
Speak and Listen users phone 1800 555 727 then ask for 1800 679 737
Internet relay users connect to the NRS then ask for 1800 679 737

To report a fire or emergency

 (TTY users only), access TTY 106.
What to do during a fire: Remember:
Follow your bush fire survival plan. If you do not have a bush fire survival plan, ensure you know what you will do before, during and after the fire.
Remember – 

leaving early is your safest option

.
Written by Kate Stevens
Images: Getty