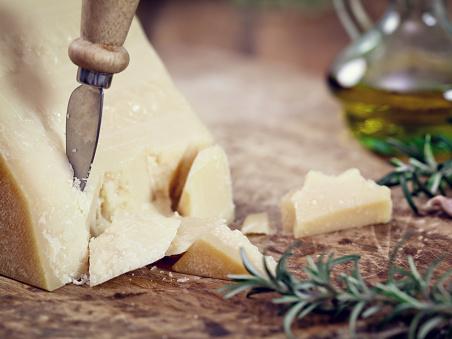 Wait, what?! 
So, most of us have lived our lives thinking that all cheese was vegetarian. Turns out we couldn't be more wrong. 
Apparently, there are at least 11 types of cheese that can't be classified as vegetarian because of the use of something called rennet. Rennet is a substance that causes milk to curdle, solidify and eventually, become cheese. Non-vegetarian rennet contains an enzyme called rennin (so similar, we know!) that is found within the stomachs of calves. 
This particular type of rennet is commonly used to make the following cheeses, making them absolutely not vegetarian-friendly (get ready, there are a lot of our faves in this list):
1. Parmigiano Reggiano
2. Gruyere
3. Manchego
4. Emmenthaler
5. Pecorino Romano
6. Gorgonzola
7. Mimolette
8. Grana Padano
9. Camembert
10. Boucheron
11. Vacherin 
Now, to all our veggie friends who are no doubt heartbroken about this news, let us confirm that there are vegetarian versions of many of these cheeses available, it may just be a case of double checking to be safe! 
Don't worry, you don't have to give up your delicious, cheesy nachos just yet. 
Written by Stephanie Nuzzo
Images: Getty