"She prides herself on being petty towards children!"
Parents all over the globe are outraged after a teacher's note showing her "inhumane" restrictions on her student's bathroom breaks went viral.
The note, sent out by "Mrs White" from Hanley Middle School in the US, shows that the teacher only allows her students to leave the classroom for bathroom breaks, water or nurses visits twice a month.
It was shared on Twitter by user Jaadee, a friend of a student's mother, who took a photo of the outrageous note and posted it with the caption "Your child comes home and shows you this note her teacher had her sign at school. What's your reaction?".
The note reads, "Mrs. White's 8th Grade Admin/Bathroom/Water/Nurse Pass. Issued August 20th, 2018... I will only every have 2 passes for the ENTIRE month during Focus, BOTH Maths Blocks, Community, Lunch, Restoration, etc.
"I understand that once the number is circled, it indicates how many times I have went thus far for the ENTIRE month.
"I understand that I need Mrs. White's signature for EVERY TIME I have to leave to go to the Bathroom, Nurse, speak with Admin or to get water."
A table indicating the number of times the student has used the pass is then included, followed by a statement that the student was required to sign.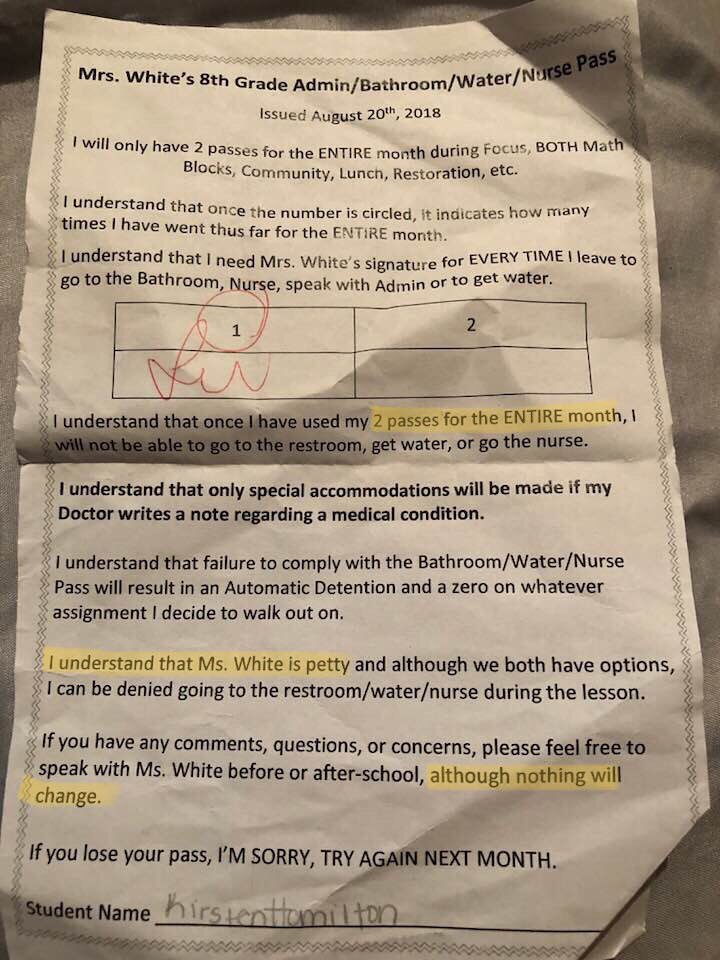 "I understand that once I have used my 2 passes for the ENTIRE month, I will not be able to go to the restroom, get water, or got to the nurse. I understand that only special accommodation will be made if my doctor writes a note regarding a medication condition.
I understand that failure to comply with the Bathroom/Water/Nurse pass will result in an Automatic Detention and a zero on whatever assignment I decided to walk out on."
At the end of the note, it reads "I understand that Mrs. White is petty and although we both have options, I can be denied going to the restroom/water/nurse during the lesson".
The online community was disgusted by the note calling it "sick", "cruel" and "horrible".
Following the online backlash, the school released a statement saying that they were investigating the incident, and that the document "was inconsistent" with the school's policies.
What do you think?
SEE ALSO: Jetstar introduces new $13 carry-on rule 
SEE ALSO: 'Choking risk': Target Australia issues recall on baby products 
Written by Kate Stevens
Image: Getty/Twitter.