You wanna pizza this?!
La Bocca Woodfire Pizza
La Bocca has some of the best traditional woodfire pizza on the coast, but the best on their menu is 'The Godfather' – a delicious mix of chorizo, roast capsicum, pepperoni, rocket, ricotta and cracked black pepper. This is an offer we can't refuse!
The Red Pepper
Are you four episodes deep in a Netflix binge and don't feel like getting out of bed? Well, The Red Pepper delivers delicious pizza right to your door! And get this – they have online ordering! You don't even have to pause your show to make a phone call.
This place will have you howling with their options! With small to extra-large, and everything from margarita to the Terrigal special, there's plenty to feed all those hungry little wolves begging you for takeaway!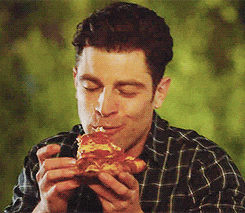 Bam Vino
Bam Vino might have a massive menu to choose from, but the go-to on your first visit is their famous Mango Chicken Pizza – a warm base topped with mango, marinated chicken breast, coconut yoghurt, mint and cashews. Give us a pizza that!
The Supreme Pizza
The Supreme Pizza offers plenty of out-of-the-box pizzas to bite into! They blend pizza with different international cuisines resulting in flavours such as Red Curry Beef, Satay Chicken, Sunday Lamb Roast and Tandoori Chicken. These creations will steal a pizza your heart!
Pizza Inn
Often tucked away in small shops, the Pizza Inn franchise is sometimes hard to find. However, what is not hard to find is a delicious slice! Don't worry, you can crust us!  
Words by Kate Stevens
Images via Pixabay/GIPHY